One of our most popular questions is, "What kind of yogurt can I eat?"
There is only one yogurt yogurt that I have been able to find that is Low Amylose friendly, but I can't find it locally. (It's Nancy's Yogurt. Some of their flavored yogurts are sweetened with agave nectar. Avoid the soy yogurt as soy is not good for those of us with PCOS.)
Since I can't buy any already made at the store, I like to sweeten my own. It's very simple and versatile. It's the perfect addition to any meal or on it's own as a snack or dessert.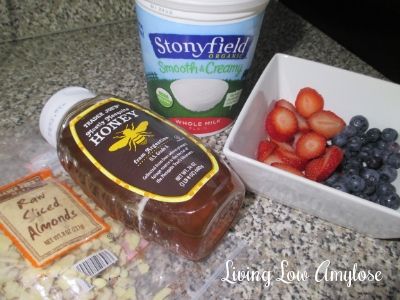 What you'll need:
Yogurt (plain or greek)
Fruit (fresh or frozen)
Nuts (sliced or chopped, almonds or pecans work best)
Low Amylose friendly sweetener (honey, agave nectar, liquid stevia, date paste, etc)
Step 1:
Fill the bottom of the bowl with whatever fruit you want.
Step 2:
If you're using a sweetener like date paste or liquid stevia, mix the sweetener into the yogurt. You may also decide to add a dash cinnamon and/or vanilla into the yogurt for more flavor as well. Then, top the fruit with your yogurt.
If you're using a sweetener like honey or agave nectar, once you add the yogurt to your bowl, lightly drizzle with your sweetener.
Step 3:
Top with your favorite chopped or sliced nut. This gives you the added crunch that granola would have.
Eat this right away, otherwise the yogurt might separate and the nuts will get soft.
You can watch the video below: